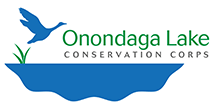 Plant a Tree, Get Your Hands Dirty, Become an Environmental Steward
JOIN THE ONONDAGA LAKE CONSERVATION CORPS
Hundreds of community volunteers have become environmental stewards of Onondaga Lake since the formation of the Onondaga Lake Conservation Corps in summer 2012.
The Corps is an expanding organization of community volunteers who are contributing to restoration projects that are creating or improving wildlife habitat in the Onondaga Lake watershed. The Corps seeks to inspire future stewards of Onondaga Lake and its watershed through a hands-on, experience-based program that offers citizens and organizations the opportunity to participate in activities that help restore and sustain Onondaga Lake and its value as an Important Bird Area.
Founding partners of the Corps include Montezuma Audubon Center, Onondaga Audubon Society, Parsons, O'Brien & Gere, and Honeywell.
Schools, community groups, local organizations, and individuals are welcome. To learn more or participate in future activities, please contact montezuma@audubon.org or call 315-365-3588.