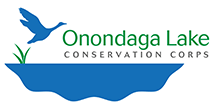 Onondaga Lake Conservation Corps seeks to inspire future stewards of Onondaga Lake and its watershed through a hands-on, experience-based program that offers invested citizens and organizations the opportunity to participate in activities that help restore and sustain Onondaga Lake and its value as an Important Bird Area.
To learn more about the Onondaga Lake Conservation Corps or participate in future activities, please contact Chris Lejewski at montezuma@audubon.org or call 315-365-3588.
The Conservation Corps' founding members are the Montezuma Audubon Center, the Onondaga Audubon Society, Parsons, O'Brien & Gere, and Honeywell.