Student Scientists Conduct Hands-On Experiments and Investigate Onondaga Lake Watershed During Honeywell Summer Science Week
Eighth-Grade Field Scientists Sample Local Creeks and Become Environmental Stewards; Program Instills Confidence in Science and Math
Sixty-three middle school students from 13 Central New York school districts completed Honeywell Summer Science Week in 2016. Now celebrating its 11th year, Honeywell Summer Science Week, which is organized by the Milton J. Rubenstein Museum of Science & Technology (MOST) in Syracuse, has inspired more than 600 students through hands-on science exploration in the Onondaga Lake watershed.
The program brings science to life as students become field researchers learning from scientists, engineers, professors, and college students about the watershed and associated environmental sciences. Honeywell Summer Science Week helps motivate students by improving their science aptitude and confidence, and encourages them to work toward careers in science, technology, engineering, and math (STEM).
Watch a video about the impact Honeywell Summer Science Week has on students.

Students spend more than 40 hours as field scientists, learning about the watershed, and conducting hands-on experiments.
Left: Students work with a counselor in Onondaga Creek using a kick-seine net, which is a fine mesh net commonly used for collecting samples of aquatic macroinvertebrates such as snails, crayfish, and insects.
Right: 2016 Honeywell Summer Science Week student Amina Abdikadir, Syracuse City School District, measures water velocity in Onondaga Creek.
"This is an outstanding program that reaches students at the age when many lose interest in science," said MOST President Toni Martin. "We need today's students to have a good grounding in the sciences so they can understand complicated issues when they become tomorrow's leaders."

Students investigate Onondaga Lake water quality and learn from habitat experts and engineers about the Onondaga Lake cleanup at Honeywell's Onondaga Lake Visitors Center.
Left: Mike Conese, environmental engineer at Anchor QEA, teaches students about the Onondaga Lake cleanup.
Right: Students look at microscopic organisms with assistance from Honeywell Educators at Space Academy teacher Sue Potrikus.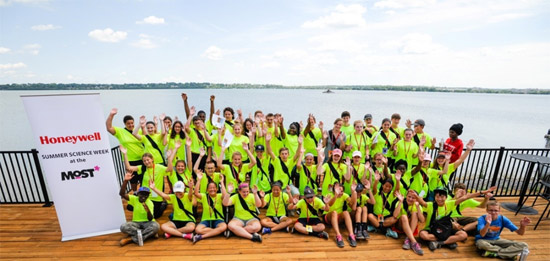 2016 Honeywell Summer Science Week participants

On July 11, Honeywell and the MOST joined middle school students aboard the Emita II tour boat to kick off Honeywell Summer Science Week.
Left: Montezuma Audubon Center Director Chris Lajewski helps students identify bird species found on Onondaga Lake.
Right: West Genesee Central School District students Julia Soper (left) and Clare Barrett aboard the Emita II.
"Throughout the week, students participated in a variety of activities while learning an interdisciplinary approach to investigation, discovery, and resolution of environmental issues facing Onondaga County. Field activities included collecting water samples throughout the Tully Valley and the Onondaga Lake watershed, touring Onondaga Lake, and exploring Clark Reservation, Onondaga Creek, and Nine Mile Creek.
Honeywell Summer Science Week provides our students field experience through hands-on investigations," said MOST Chief Program Officer Peter Plumley, Ph.D. "The program introduces them to scientific methodology and observation of the natural world. Many students go on to successfully compete in the Central New York Science & Engineering Fair, earning merit scholarships for college."
"Honeywell Summer Science Week inspires the next generation of scientists and engineers through hands-on experiments in the Onondaga Lake watershed," said Honeywell Syracuse Program Director John McAuliffe. "This innovative program increases students' interest in science and math and teaches them an interdisciplinary approach to resolution of environmental issues."
Honeywell Discovery Day
The students reunited one last time on July 20, during Honeywell Discovery Day, to discuss scientific findings. During the day, students presented their observations and watched a video from Congressman John M. Katko about the importance of science education.

Left: Students presented their observations to family members and Honeywell Syracuse Program Director John McAuliffe.
Right: Honeywell Summer Science Week students received completion certificates and became "MOST Associates," which grants each student a one-year museum pass.
Local organizations and individuals participating included: Montezuma Audubon Center, U.S. Geological Survey, OBG, Parsons, Anchor QEA, Onondaga County Department of Water Environment Protection, and faculty and graduate students from Syracuse University and the State University of New York College of Environmental Science and Forestry. The program exposes students, who are about to enter high school, to real scientists and university professors preparing them for future studies and possible STEM careers.
Honeywell Summer Science Week is sponsored by Honeywell Hometown Solutions, the company's corporate citizenship initiative that focuses on five areas of vital importance: Science & Math Education, Family Safety & Security, Housing & Shelter, Habitat & Conservation, and Humanitarian Relief. Together with leading public and non-profit institutions, Honeywell has developed powerful programs to address these needs in the communities it serves. For more information, please visit http://citizenship.honeywell.com/hometown-solutions.
For more information on the Onondaga Lake cleanup, visit www.lakecleanup.com.