Settling Basins 9-15 Closure Plan
Virtual Public Meeting/Public Comment
A virtual public meeting was held on May 25, 2021. The meeting began at 6:00 p.m. with a 30-minute presentation followed by Q&A.
Comments were accepted at the public meeting and during the public comment period that began on May 12, 2021 and ended on June 11, 2021.
Honeywell hosted a May 25th public meeting and provided a Fact Sheet to inform the public about ongoing and upcoming closure activities at Settling Basins 9-15 located on approximately 662 acres in Camillus and Geddes, New York. The Settling Basins are near Interstate 690, NYS Route 695, State Fair Boulevard, and the New York State Fairgrounds.
The New York State Department of Environmental Conservation and Honeywell entered into a Consent Order for Settling Basins 9-15 (referred to in the Consent Order as Wastebeds) on December 6, 2010 and amended in December 2014.
The Consent Order identifies activities required for the successful closure of the Settling Basins including implementation of a Closure Plan incorporating an effective cover system. Significant progress has been made over the last decade.
Please see the Setting Basins 9-15 Fact Sheet and the Public Meeting Documents below.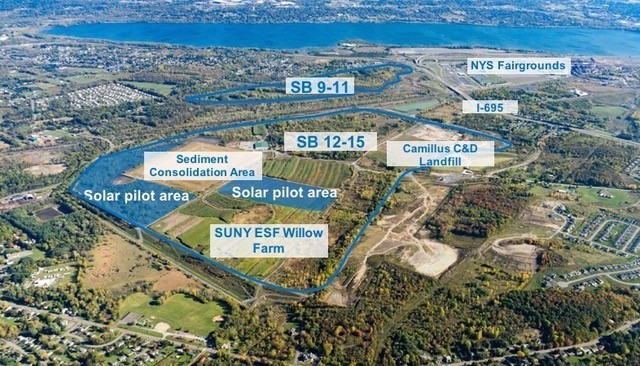 Public Meeting Documents:
Consent Order [PDF]
Consent Order Amendment [PDF]
Closure Investigation Report [PDF]
Site Closure Plan [PDF]
Off-Site Surrounding Affected Area Restoration Plan [PDF]
Operation & Maintenance Plan [PDF]
Performance Verification Plan [PDF]
Shrub Willow Sustainable Remedy PDI Report [PDF]
Inland Salt Marsh Interim Measure Report [PDF]
Closure Investigation Data Evaluation Report [PDF]
Alternate Solar Closure Plan [PDF]