Groundwater Collected on Lake's Edge will be Carried to Willis Avenue Facility for Treatment
Honeywell is installing approximately 550 feet of fiberglass piping under Interstate 690 and State Fair Boulevard this week to connect the Willis Avenue groundwater treatment site to the southwestern shore of Onondaga Lake. Traffic will not be affected by the work.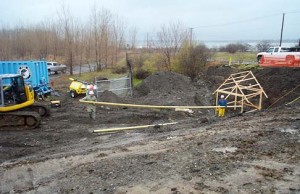 When complete, three 4-inch pipes will carry groundwater collected on the lake's edge to two 250,000 gallon storage tanks prior to being processed through the site's groundwater treatment plant. Once treated, the clean groundwater will be tested to ensure it meets state guidelines and returned to the lake via existing piping under I-690. The piping is one element of the site's total groundwater collection and treatment system designed to prevent contaminated groundwater from reaching Onondaga Lake.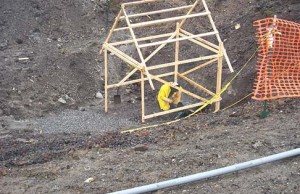 The $20 million groundwater collection and treatment system will consist of a groundwater treatment plant, two storage tanks, a groundwater pumping station, and a one and one-half mile long underground barrier wall to block groundwater from reaching the lake.
"Connecting the groundwater treatment plant to the lake shore is more evidence of the progress that is being made in the restoration of Onondaga Lake," said Honeywell Syracuse Area Remediation Program Director John McAuliffe. "Completing these projects now will allow work on the lake cleanup to move ahead more quickly in the future."
Since April, Honeywell, under New York State Department of Environmental Conservation (DEC) supervision, has completed construction of a prefabricated 17,500 square foot building specifically designed to house the groundwater treatment system; the main filters, tanks and air strippers used to treat contaminated groundwater; and three 4,000 gallon fiberglass tanks at the pump house along the southwestern shore of the lake.
Throughout this fall, Honeywell has begun installing the groundwater treatment plant and landscaping the site. The groundwater treatment facility will be completed in the spring of 2006.
For more information on the Onondaga Lake cleanup, visit www.onondaga-lake-initiatives.com.