Get Involved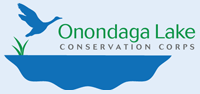 To learn more about the Onondaga Lake Conservation Corps or participate in future activities, please contact Chris Lajewski at montezuma@audubon.org or call 315-365-3588.
Photos & Videos: Landscape Designs
Have a Question?

To ask a question or comment, please click on "Contact Us"
or call 315.552.9784.
The Onondaga Lake Visitors Center was designed and built by Honeywell to provide the public with access to the cleanup.