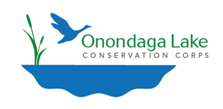 Onondaga Lake Conservation Corps Hosts Event Including Bald Eagle Walk
More than 120 community members joined the Onondaga Lake Conservation Corps last Saturday at "Restoring the Bald Eagle: A 40-Year Journey," a presentation by Mike Allen, a retired wildlife technician and biologist involved with the Bald Eagle program in New York State. After the presentation, Onondaga Audubon Society members led a birding walk along the Onondaga Creekwalk.
The Conservation Corps encourages the public to become stewards of Onondaga Lake and educates them about its value as an Audubon Important Bird Area. More than 650 community volunteers have helped restore 74 acres of wetlands, creating a home for more than 180 wildlife species.
Below are key questions addressed by Mike Allen.
Please describe the New York State Bald Eagle Restoration Project.
The Bald Eagle Restoration Project was founded in 1976 to re-establish a Bald Eagle population in New York State. Over a 13-year period, 198 nestling Bald Eagles were collected from Alaska and Midwest states, transported, and then released in New York.
The project was a first of its kind in the country. It included raising and releasing young birds that were either hatched in captivity or taken from wild nests, and then "fostered." These birds were then placed in the last known active nest in New York State (south of Rochester) with the hope that they would be accepted by adults and raised as if they were their own.
What was the impact of the project?
When the project got underway in 1976 there was one active Bald Eagle nest in all of New York State.
Today, there are about 300 active nesting areas across the state. Two to three dozen Bald Eagles regularly spend the winter at Onondaga Lake.
What attracts so many Bald Eagles to Onondaga Lake during the winter?
The primary attraction is the open water that is present at the south end of the lake. During cold winters, Bald Eagles congregate around this warm water discharge with the hopes of finding a meal.
Is it common to see a large number of Bald Eagles in an urbanized area?
No, it is not common to see this number of Bald Eagles living in close proximity to people. Data show there has been a remarkable increase in the number of Bald Eagles visiting Onondaga Lake; 79 have been spotted over the past 10 years.
Honeywell has created or restored 74 acres of wetlands in the lake and nearby tributaries. More than 600,000 native plants have been planted in these restored areas. Lake water quality is the best in decades. How do these improved habitat conditions help attract and support Bald Eagles?
Improved habitat results in increased numbers of fish, waterfowl, muskrats and any number of other species. One of the things we've seen over the last 41 years is the better the food, the more likely birds, especially young birds, select an area as home.
One of the neat things about Bald Eagles is that they have a habit of coming back to what we would call their natal (home) area, where they were released. As the habitat throughout New York State improves, more areas become attractive to Bald Eagles, including those that are approaching maturity.
Where do the Bald Eagles come from and where do they travel when they aren't wintering in Central New York?
Typically, by the end of September, young Bald Eagles are moving out on their first season of migration. They may go south, west, and some even go north. Data show that some were seen as far west as Missouri, and as far south as Florida and Alabama.
In 1992, a bird left a nest at Montezuma National Wildlife Refuge in late September and by mid-February, it was in Yarmouth, Nova Scotia, over 500 air miles away. That was a real eye-opener for all of us, unexpected but very exciting.
What can we learn about the health of our ecosystem with Bald Eagles returning to Onondaga Lake every year?
The more Bald Eagles utilizing Onondaga Lake, the better the environment – that's a simple answer.
Sadly it took only 10 years from the late 1940s through the 1950s for the Bald Eagle population to take a major hit. Until the problem was identified nobody knew it was happening. We need to keep a focus on Bald Eagle populations and productivity through continued surveys and data collection. The population decrease occurred very rapidly, and if we are not paying attention, there is nothing to stop it from happening again.
Given the resurgence of the lake and surrounding wetlands, would you expect to see a Bald Eagle nest within the next few years?
Only time will tell, or perhaps we could ask the Bald Eagles. Keep looking up!
About the Onondaga Lake Conservation Corps
The Corps seeks to inspire future stewards of Onondaga Lake and its watershed through a hands-on, experience-based program that offers citizens and organizations the opportunity to participate in activities that help restore and sustain Onondaga Lake and its value as an Important Bird Area.
Partners of the Corps include Audubon New York, Montezuma Audubon Center, Onondaga Audubon Society, Parsons, OBG, Anchor QEA, Bond Schoeneck & King, State University of New York College of Environmental Science and Forestry, Habitat Gardening in Central New York, and Honeywell.
To learn more about the Onondaga Lake Conservation Corps or participate in future activities, please contact montezuma@audubon.org or call 315-365-3588. Schools, community groups, local organizations and individuals are welcome. Like the Corps on Facebook or visit YouTube to learn more.
For more information on the Onondaga Lake cleanup, visit www.lakecleanup.com.
View more photographs of the Onondaga Lake Conservation Corps.