Honeywell Funds Project to Expand Access to Nine Mile Creek and Onondaga Lake
On Saturday, June 4, 2005, the Nine Mile Creek Conservation Council, the Central New York Kayak Club and Honeywell celebrated the official opening of the new Lakeland Canoe and Kayak Launch, which is located off of State Fair Boulevard, in the Town of Geddes. The recreation spot will offer outdoor enthusiasts another safe access point into Nine Mile Creek and Onondaga Lake.
In response to a request from the Nine Mile Creek Conservation Council (NMCCC), Honeywell installed a large, floating dock; a new set of stairs; and a ramp connecting the stairs to the dock. The New York State Department of Environmental Conservation (DEC) recommended habitat improvements for the launch site, which includes a special area designed to attract songbirds. Honeywell will maintain the launch area and dock.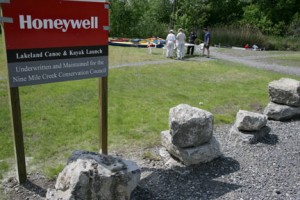 Canoes or kayaks entering Nine Mile Creek from the new launch can travel approximately one-half of a mile downriver and enter Onondaga Lake. Honeywell first began working with NMCCC in January 2000 to identify opportunities for improving access to Onondaga Lake through Nine Mile Creek. In April, the company removed a major debris dam from a section of Nine Mile Creek that also improved lake access.
"Honeywell's work on various creek projects including the launch site has helped draw attention to the beauty of our local water trails and we thank Honeywell for their efforts. Anytime we can promote greater public access for recreational canoes and kayakers it's a win-win situation for all involved," said Fred Miller, President of NMCCC. DEC has been working with the Conservation Council to coordinate improvements to Nine Mile Creek.
At the launch site, Central New York Kayak Club President Rick Phillips said, "We applaud the efforts by the Nine Mile Creek Conservation Council and Honeywell. Working together their efforts help make the creek a destination for canoeing and kayaking fans that will open up even more recreational opportunities for outdoor enthusiasts." The Camillus Kayak Shop provided the kayaks that were loaned at the event.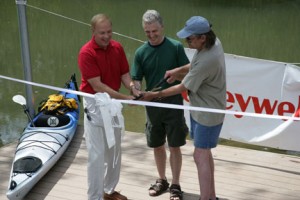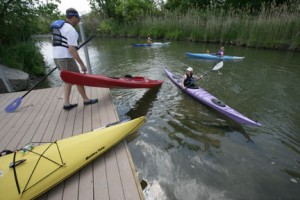 "Honeywell takes great pride in working with the community on projects such as the new canoe launch and the cleanup of Nine Mile Creek that improve access and usability of the area waterways," said Al Labuz, Honeywell's Syracuse Remediation Manager.
Honeywell is working closely with DEC on the cleanup of former Allied Chemical operations near Onondaga Lake as well as on the cleanup plan for the lake itself. On April 1st, DEC announced that the U.S. Environmental Protection Agency concurs with DEC's proposed plan for the lake. The final plan will be selected by DEC and documented in a Record of Decision to be released by July 1st.