EPA Recognizes Local Environmental Stewardship Organization Founded by Honeywell in Partnership with Audubon and Central New York Engineering Firms
The U.S. Environmental Protection Agency (EPA) recognized the Onondaga Lake Conservation Corps on April 24 with a 2015 Environmental Champion Award. The award honors "individuals, businesses and organizations that have contributed significantly to improving the environment and protecting public health."
With a goal of engaging citizen scientists and environmental stewards in the restoration of the Onondaga Lake watershed, Honeywell partnered with Audubon New York, Montezuma Audubon Center, Onondaga Audubon Society, Parsons, and O'Brien & Gere to create the Corps in 2012.
"The EPA is thrilled to honor the work of these environmental trailblazers," said Regional Administrator Judith A. Enck. "These New Yorkers work tirelessly to protect human health and the environment, inspiring us all to strive for a more sustainable future."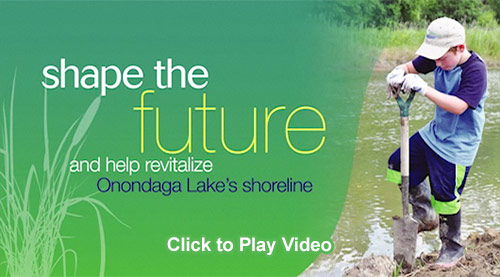 "Since the beginning of the cleanup process I knew I wanted to be involved, and the Conservation Corps has given me the chance," said Paul Marconi, a Corps volunteer. "As a lifelong resident of Geddes, it's not only great to see the change, but it's also gratifying to be a part of it."
"EPA's award honors the pride, dedication, and hard work of hundreds of these citizen scientists who have become stewards of the Onondaga Lake watershed," said John McAuliffe, Honeywell Syracuse program director. "We look forward to engaging more volunteers in May as we plant native plants and construct and install bird boxes to create homes for wildlife. Congratulations to all Corps members who are helping foster a sustainable ecosystem."
More than 500 volunteers have planted about 4,500 plants, trees, and shrubs in the Onondaga Lake watershed since the formation of the Onondaga Lake Conservation Corps.
"The Environmental Champion Award is the highest recognition presented to the public by the EPA, and we're extremely proud and deeply honored that the Onondaga Lake Conservation Corps has been selected for this award," said Erin Crotty, executive director of Audubon New York. "We know that where birds thrive, people prosper and the Corps is a successful model of public, private, and community partnership for the benefit of birds, other wildlife, Onondaga Lake's communities, and people. This distinguished recognition is further validation that innovative partnerships are the key to addressing our most pressing conservation challenges. Congratulations to Montezuma Audubon Center, Honeywell, O'Brien & Gere, Parsons, Onondaga Audubon Society, and everyone who has made this success possible – most notably the hundreds of Corps volunteers."
To learn more about the Onondaga Lake Conservation Corps or participate in future activities, please contact montezuma@audubon.org or call 315-365-3588. Schools, community groups, local organizations and individuals are welcome. Like the Corps on Facebook or visit YouTube to learn more.
For more information on the Onondaga Lake cleanup, visit www.lakecleanup.com.
For more photographs of the Onondaga Lake Conservation Corps, click here.