Community Volunteers Beautify Onondaga Creekwalk; Recreational Trail Connects to Onondaga Lake, Erie Canalway Trail, and Future Empire State Trail
Thirty volunteers enhanced the Onondaga Creekwalk in downtown Syracuse Saturday, October 19, by planting native species and participating in citizen science monitoring. The volunteers are part of the Onondaga Lake Conservation Corps, an expanding organization of community volunteers who are contributing to restoration projects that are creating or improving wildlife habitat in the Onondaga Lake watershed.
Approximately 600 pollinator-friendly native plant species were installed on Saturday, including wild bergamot, purple coneflower, and false sunflower. The species are expected to produce beautiful flowers during the summer months and will provide erosion control.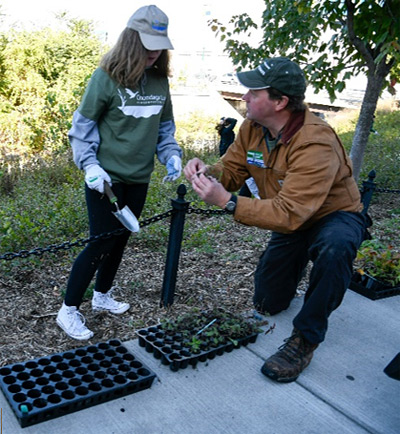 "The mission of the Corps is to enhance the Onondaga Lake watershed. Now we are moving outward from the lake and into the watershed with our projects," said OBG Managing Scientist Steve Mooney, pictured above, teaching a volunteer about the importance of loosening plant roots before replanting. "Onondaga Creek is one of two major tributaries to Onondaga Lake influencing water quality of the lake. The volunteers helped remove less desirable vegetation and planted native pollinator species. They also got to see some of the wildlife that inhabits the creek."
The Creekwalk, a 2.6-mile multi-use trail that connects downtown Syracuse to the southern shore of Onondaga Lake, offers opportunities for Central New Yorkers to enjoy recreational activities and fishing along the shoreline. The Onondaga Creekwalk will eventually connect to the Onondaga Lake Loop the Lake Trail; the Erie Canalway Trail, which is expected to connect canal communities from Albany to Buffalo; and the future Empire State Trail, a 750-mile hiking and biking trail from Buffalo to Albany and from New York City to Canada.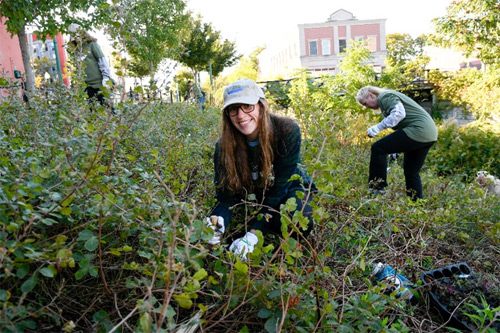 "The event was a great opportunity to get the community to a highly visible urban area in the Onondaga Lake watershed," said Adellia Baker, a student at the State University of New York College of Environmental Science and Forestry (SUNY-ESF), pictured above. "Students at SUNY-ESF prepared this site by pulling invasive species, and then volunteers planted native plants. The species that we planted will attract bees, butterflies, and songbirds, and beautify the area."
In addition to planting pollinator species, volunteers removed litter as a part of Onondaga County's Block Litter Program and participated in citizen science monitoring, identifying 15 bird species. Notable species identified include Field Sparrow, Fish Crow, and White-throated Sparrow.
The Corps seeks to inspire future stewards of Onondaga Lake and its watershed through a hands-on, experience-based program that offers citizens and organizations the opportunity to participate in activities that help restore and sustain Onondaga Lake and its value as an Important Bird Area.
Partners of the Corps include Audubon New York, Montezuma Audubon Center, Onondaga Audubon Society, Parsons, OBG, Anchor QEA, Bond Schoeneck & King, State University of New York College of Environmental Science and Forestry, Habitat Gardening in Central New York, and Honeywell.
To learn more about the Onondaga Lake Conservation Corps or participate in future activities, please contact montezuma@audubon.org, visit http://ny.audubon.org/OLCC, or call 315-365-3588. Schools, community groups, local organizations, and individuals are welcome. Like the Corps on Facebook or visit YouTube to learn more.
For more information on the Onondaga Lake cleanup, please visit www.lakecleanup.com.
View more photographs of Onondaga Lake Conservation Corps.