At a community celebration on Saturday, May 14, 2005, New York State Senator John DeFrancisco and Honeywell were recognized for funding the renovation of the 40-year-old Solvay-Geddes Community Youth Center. In September 2004, DeFrancisco secured $100,000 and Honeywell donated $250,000 to support the reconstruction of the facility.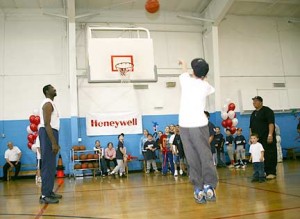 Honeywell contributed to the renovation because community leaders brought the center's plight to the attention of company officials and asked for help. The community center has a historic link to Honeywell. Employees were involved in the center from the beginning; building the facility, volunteering and becoming members.
Renovations include new exercise equipment and rooms, totally renovated restrooms, locker rooms and showers, new carpeting and meeting space, landscaping as well as improved access for the physically challenged.
Joining in the celebration were Onondaga County Executive Nick Pirro, Town Supervisor Bob Czaplicki, Center Director Len Pfeiffer and local businessman John DeSpirito who donated his time to be the project manager.
As part of the entertainment, former Syracuse University star Roosevelt Bouie hosted a basketball clinic for the young children in attendance while community residents toured the new facility.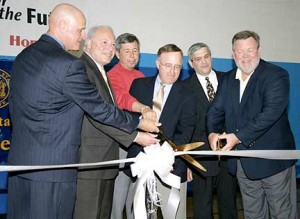 "The facility looks great and is truly a wonderful resource for this community," said DeFrancisco. "Revitalizing our neighborhoods improves the quality of life for all who live here. This center is a good example of what can happen when public/private partnerships are successful between communities, the elected officials who serve them and companies such as Honeywell who are responsible corporate citizens."
"The renovated Youth Center represents a wonderful opportunity for people of all ages to come together, share their experiences, stay fit and celebrate their pride in the community," said Pirro. "And it's great to see companies such as Honeywell maintain historical connections to communities like Solvay."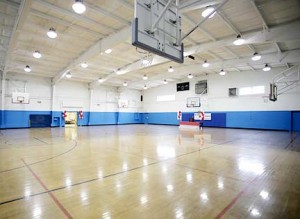 Wickersham added, "There's a century of history linking Honeywell to this community through the former Solvay Process and Allied Chemical companies. It is gratifying to see our contribution make such a difference for the neighborhood. By helping to rebuild the facility we are both honoring the past and 'building for the future.' Enhancing recreational opportunities like this at the Solvay-Geddes Youth Center is a key component of our commitment to the Geddes and Syracuse communities. Honeywell appreciates the hard work of all those involved, particularly John DeSpirito, for creating such a wonderful space for the whole community."
"We are really thrilled at how great the center looks these days. I can't thank Senator DeFrancisco and Honeywell enough for getting us the grants that made these renovations possible. We are so proud to have this type of facility in our town," said Czaplicki. "We also couldn't have done this work without the leadership and time that John DeSpirito donated to oversee the work as well as the efforts of Hardy Construction Services, O'Brien & Gere and Heuber Breuer Construction who contributed their services to get this project done."
The building, built in 1963, is owned by the Solvay Tigers youth sports program, but is operated by the Community Center, a non-profit organization.
For more information please visit our website at: www.onondaga-lake-initiatives.com.