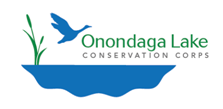 Sixty volunteers from Central New York participated in the second Onondaga Lake Conservation Corps stewardship event on Saturday, August 11. The event, held at Nine Mile Creek, provided community members an opportunity to participate in hands-on activities that will help preserve the Onondaga Lake watershed.
"Onondaga Lake Conservation Corps provides community members with unique experiences working with experts to plant native shrubs and plants that will help restore Nine Mile Creek," said Jeremy Neumann, senior scientist at Parsons. "We hope volunteers continue to be inspired, and encourage others to get involved as environmental stewards to help protect the Onondaga Lake watershed."
Earlier this summer, 56 volunteers got their hands dirty creating new habitat at the Geddes Brook wetlands during the inaugural Onondaga Lake Conservation Corps stewardship event.
"Volunteers were enthusiastic about making a difference and expressed interest in remaining involved in the lake cleanup project," said Frank Moses, director of the Montezuma Audubon Center. "Each participant took a conservation pledge and received a certificate recognizing their efforts at helping to enhance habitat and support birding."
On Saturday, volunteers gathered at Nine Mile Creek where their efforts contributed to the transformation of 30 acres of land into improved wetlands, a healthier creek, improved habitat for wildlife, and access for canoeing and kayaking. Nine Mile Creek will become part of a green corridor connecting habitat from Onondaga Lake to the Geddes Brook wetlands. The remediation work will prevent contaminated material from reaching Onondaga Lake.
Volunteers learned about citizen science monitoring and data collection from experts from the Montezuma Audubon Center, Onondaga Audubon Society, Parsons, and Honeywell. Experts discussed wetlands and their importance in supporting the Onondaga Lake watershed and its value as an Important Bird Area. Hands-on activities included planting native shrubs and plants, conducting stream sampling, and participating in a birding walk.
Organizations providing volunteers and staff: Onondaga Audubon Society, Montezuma Audubon Center, Parsons, Honeywell, Antea Group, Camp Green Teen, students from the State University of New York Upstate Medical University, Cornell Cooperative Extension Master Gardeners, Milton J. Rubenstein Museum of Science & Technology, Technology Alliance of Central New York, CH2M Hill, Honeywell Institute for Ecosystems Education teachers, and O'Brien & Gere.
For more information on the Onondaga Lake cleanup, please visit www.lakecleanup.com.