Elected Leaders View Progress in Stopping the Major Source of Mercury Contamination from Reaching Onondaga Lake
Honeywell has made significant progress in cleaning up the former Linden Chemical and Plastics (LCP) site in the town of Geddes, a former Allied Chemical property that was the major source of mercury contamination to Onondaga Lake. In the remediation of the LCP site, Honeywell has removed 14,500 pounds (more than seven tons) of mercury from plant property through "soil washing."
Under direction of the New York State Department of Environmental Conservation (DEC), the cleanup program underway at LCP involves a combination of mercury removal from soil on the former plant property; excavation of contaminated sediments in surrounding areas; installation of an on-site groundwater collection system; and the construction of a five-story deep, underground cut off wall to prevent any future runoff from the site.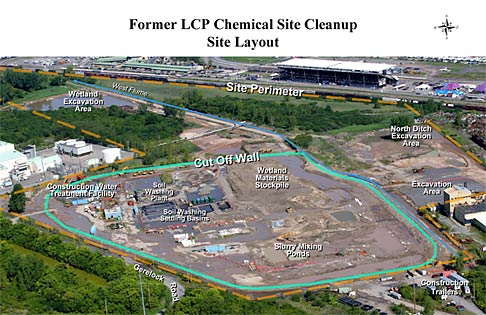 Work began in October 2003 and will be completed late this fall. In addition to mercury removal, Honeywell has also removed 19,000 gallons of contaminated liquids, 280,000 pounds of sludge and 3,380 cubic yards of debris and contaminated soil.
"Cleanup of the LCP site and surrounding area is clear evidence of progress in the remediation of Onondaga Lake," said Honeywell Syracuse Area Program Director John McAuliffe. "Under the jurisdiction of DEC, we are completing the cleanup of the major source of mercury contamination to the lake. The innovative soil washing process has been enormously successful. When completed this fall, this project will prevent mercury contamination from this site from entering the lake."
Joining McAuliffe and DEC Region 7 Director Ken Lynch on a site tour and progress report today were Onondaga County Executive Nick Pirro; Onondaga County Legislature Chairman Dale Sweetland; Onondaga County Legislature Environmental Protection Committee Chair Brendan Whelan; Onondaga County Legislature Environmental Protection Committee Vice Chair Jim DiBlasi; and representatives of New York State Senator John DeFrancisco and New York State Assemblyman Bill Magnarelli.
Mercury left behind by decades of operation of the LCP plant is being removed from the soil and transported offsite through a new technology called soil washing. The six-step process removes mercury from soil by using water to first separate the material's larger soil particles from the fine silt and clay pieces, and then remove mercury from the silt and clay. Almost 7,300 tons of soil has been processed to date.
Honeywell is also remediating wetlands and waterways in the area that were impacted by plant operations. The company has conducted extensive removal of contaminated sediments at the nearby West Flume and other drainage and wetland areas. Materials removed from these areas will be consolidated on the LCP plant site. When complete, the wetlands will be restored to provide habitats for a variety of wildlife species, including wading birds, ducks, amphibians, fish, and small and large mammals.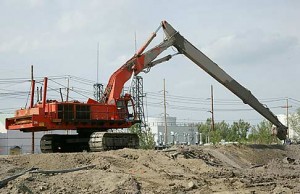 In addition to soil washing and excavation of sediment, Honeywell is constructing an underground cut off wall around the LCP property that goes as deep as 70 feet. Near the cut off wall, a groundwater collection system, including 15 pumping wells and a groundwater storage building will be installed. Collected groundwater will be reused or trucked to an offsite facility for treatment. A permanent multi-layer, three foot thick cap will be put in place to ensure that all remaining materials are isolated from the environment.
For more photos and information on the Onondaga Lake cleanup, visit www.onondaga-lake-initiatives.com.