Community input is a key component of Honeywell's efforts to restore Onondaga Lake. Nearly 100 people have attended public meetings and made suggestions on ways to improve the Geddes Lakeshore along I-690. Their suggestions include planting diverse and sustainable vegetation, enhancing lake access, and providing expanded recreational opportunities.
On December 9, the community could see real evidence of how their ideas are being incorporated into designs for plantings next spring and for final improvements, once the lake cleanup is complete.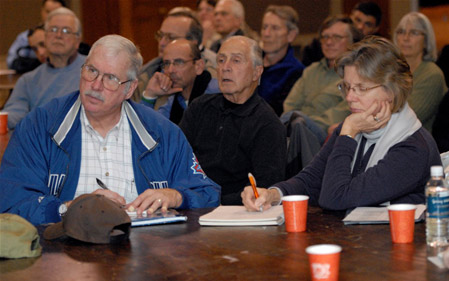 Emanuel Carter, Co-Director of the Landscape Architecture Program at the State University of New York College of Environmental Science and Forestry, who helped guide the discussion said, "These meetings are important because they allow citizens to think about, and participate in the process. The future of Onondaga Lake is important because it gives life to our community. It is part of our identity. The public process generates enthusiasm and hope. There was not a single person here tonight who was unhappy with the process."
One Geddes resident Thomas Blake said, "These meetings are important because they keep us up-to-date on the progress. They give us a chance to be involved and give our ideas. I run and walk along Onondaga Lake six days a week in the summer, so the future and the visual effects are important to me. The public process is really good. Now the public has a chance to be involved."
Please access the document below for the December 9 presentation. As soon as design plans are finalized, we will post them to this website.
If you have any questions or comments, please call Craig Milburn at 315.552.9784.