State's Plan Continues Progress on Cleanup of Key Onondaga Lake Tributary
The New York State Department of Environmental Conservation (DEC) today released a proposed plan for the restoration of the lower section of Nine Mile Creek. The plan includes restoring forested wetlands, enhancing stream conditions for fish spawning and migration, and improving habitat along the creek. These elements will provide critical linkages with wetlands at the former Linden Chemical and Plastics (LCP) site, the Shrub Willow Farms at the former Solvay Settlings Basins, and future enhanced habitat along the shores of Onondaga Lake.
"The Geddes Brook/Nine Mile Creek restoration will create improved habitat and wetlands from the LCP site to Geddes Brook/Nine Mile Creek to Onondaga Lake," said Honeywell Syracuse Program Director John McAuliffe. "Wetlands have many tremendous ecological benefits and are critical to long-term habitat enhancements and restoration."
"Forested wetlands are important and we need more of them around the lake," said Dr. Ryan Davis, Managing Scientist, Anchor QEA, a leader in habitat restoration and a Honeywell consultant. "Restoring and enhancing the wetlands located at the mouth of Nine Mile Creek will provide additional valuable habitat and refuge for birds, like belted kingfishers, that use the wetlands, Nine Mile Creek, and the lake."
Forested wetlands control erosion, stabilize shorelines, and retain nutrients to enhance water quality. They also support diverse plant and animal species. Plants may include Silver Maple, American Elm, Grey Stem Dogwood, Buttonbush and Spicebush. The forested wetlands will be suitable for many animal species including mink, beaver, leopard frog, and a variety of birds, including red-tailed hawk, belted kingfisher and red-headed woodpecker.
"We support actions leading to the cleanup of Nine Mile Creek that will support diverse wildlife and aquatic habitats. The preservation of riparian buffer and wetlands along the river corridor is vitally important," said Nine Mile Creek Conservation Council President Fred Miller. "We look forward to working with all parties during the wetlands design phase and providing input through the public participation process."
The DEC's plan, which was developed with Honeywell's team and reviewed by the U.S. Environmental Protection Agency (EPA), calls for removing 58,000 cubic yards of soil and its replacement with certified clean soil.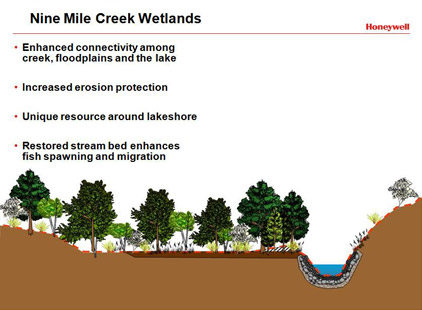 Nearly 15,000 emergent wetland plants, shrubs and trees will be planted, bringing the number of new trees and native plants along the creek to more than 75,000.
Honeywell is committed to working under the DEC's supervision to involve the public in key design and construction activities.
The DEC's Proposed Plan has been made available to the community for a public comment period that concludes on July 3, 2009. On June 11, 2009, the DEC will hold a public meeting at 7:00 p.m. at the Martha Eddy Room in the Art and Home Center at the New York State Fairgrounds in Syracuse, New York.
A Proposed Plan is a document that identifies and evaluates different remedial actions for a specific project and recommends a plan that protects health and the environment. More information on the Proposed Plan can be found in the Proposed Plan for Operable Unit 2 of the Nine Mile Creek Site Onondaga Lake Superfund Site.
This is the second phase of the Geddes Brook/Nine Mile Creek project. In November 2008, the DEC released the Proposed Plan for Operable Unit 1 of the Geddes Brook/Nine Mile Creek Site Onondaga Lake Superfund Site.
For more information on the Onondaga Lake cleanup, visit www.onondaga-lake-initiatives.com.