Will Remove Significant Source of Onondaga Lake Mercury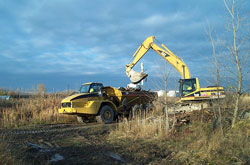 Swift progress is being made on an accelerated cleanup of hazardous materials at the former Linden Chemicals and Plastics (LCP) Bridge Street facility in Solvay.
The cleanup is the first phase of a multi-year remediation effort that will cost about $14 million. The project, which began ahead of schedule on October 27 and will last approximately one month, will include the removal or capping of contaminated soil that contains mercury and polychlorinated biphenyls (PCBs). The cleanup work is being conducted to prevent migration of mercury from the LCP site into the lake.
Local staff of O'Brien and Gere and Parsons Engineering are providing project management and engineering services.
A federal bankruptcy court has had custody of the site since the former owner, the New Jersey-based Linden Chemicals and Plastics Co., declared bankruptcy. Honeywell is responsible for the cleanup because its predecessor firm – AlliedSignal Inc. – once owned the land and sold it to LCP. When LCP declared bankruptcy, responsibility for the site's cleanup reverted to Honeywell.
In preparation for the cleanup process, 13 groundwater monitoring wells were drilled and hundreds of soil samples and test borings were made by Honeywell under DEC's supervision. This preparatory work provided the engineering data to devise an effective remediation plan and ensure its success.
Prior to the recent cleanup activities, Honeywell demolished several vacant buildings and removed hazardous and non-hazardous sludge and liquids from 21 tanks. The tanks were then cleaned, cut up and disposed of offsite.
About 2,300 cubic yards of material will be excavated and consolidated within a capped site. Another area with PCB-laden soil will be excavated to a depth of two feet, and the soil removed for off-site disposal. Six recently discovered steel drums, one containing mercury-contaminated spent carbon, will be safely disposed off-site. Honeywell is taking added precautions regarding the water and construction materials used during the remediation operation, ensuring that any possible contamination will be contained.
We hope you find this information valuable. We want your feedback. Please send messages to us via e-mail at honeywell@onondaga-lake-initiatives.info.