Audubon New York Executive Director Teaches Volunteers About Importance of Creating and Sustaining Habitat for Important Bird Areas such as Onondaga Lake
The Onondaga Lake Conservation Corps returned to the Geddes Brook wetlands on Saturday, October 25, to see firsthand how their habitat restoration efforts have contributed to creating a home for more than 65 fish and wildlife species. Sixty-eight volunteers from Central New York participated in the ninth and largest Corps event to date.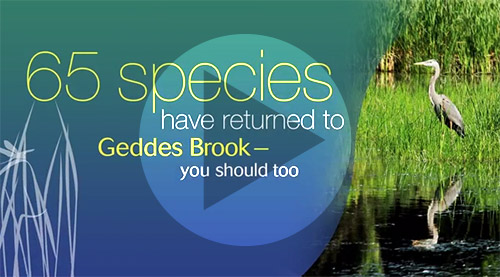 To watch a video from the event, click here.
Improvements made during the Onondaga Lake cleanup are enhancing habitat and supporting a diverse population of fish, birds, and mammals while increasing opportunities for outdoor recreation. To date, 37 acres of wetlands have been created or enhanced and about 312,000 native plants, trees, and shrubs are providing diverse habitat for more than 110 wildlife species, including mink, beaver, wild turkey, bald eagles, northern pike, largemouth bass, smallmouth bass, and snapping turtles.
The Onondaga Lake Conservation Corps was established in 2012. Founding partners of the Corps include Montezuma Audubon Center, Onondaga Audubon Society, Parsons, O'Brien & Gere, and Honeywell. To learn more or to participate in future activities, please contact montezuma@audubon.org or call 315-365-3588.
For more information on the Onondaga Lake cleanup, please visit www.lakecleanup.com.
For more photographs of the Onondaga Lake Conservation Corps, click here.
For a complete list of the birds identified at the event, click here.