Members of the Onondaga Lake Conservation Corps Construct, Install, and Survey Habitat Structures and Bird Boxes along the Western Shoreline of Onondaga Lake
Volunteers gathered along the Onondaga Lake western shoreline on Saturday, June 18, to build, install, and survey habitat structures as they participated in citizen science monitoring. The volunteers are part of the Onondaga Lake Conservation Corps, an expanding organization of community volunteers who are contributing to restoration projects that are creating or improving wildlife habitat in the Onondaga Lake watershed.
The work along the lake's western shoreline will transform 20 acres into new wetlands and improved habitat for wildlife that will play a significant role in creating a healthy Onondaga Lake watershed and a sustainable ecosystem. On the shores of Onondaga Lake and along the lake's tributaries, Honeywell is improving a total of 87 acres of wetlands and planting about 1.1 million plants, shrubs, and trees. To date, more than 420,000 shrubs and trees have been planted. More than 50 acres of wetlands have been restored.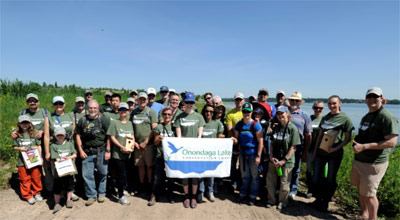 Since the formation of the Corps in summer 2012, more than 600 volunteers have become environmental stewards and Corps members. In recognition of their work, the Onondaga Lake Conservation Corps was awarded a U.S. Environmental Protection Agency 2015 Environmental Champion Award.
The Corps seeks to inspire future stewards of Onondaga Lake and its watershed through a hands-on, experience-based program that offers citizens and organizations the opportunity to participate in activities that help restore and sustain Onondaga Lake and its value as an Important Bird Area.
To learn more about the Onondaga Lake Conservation Corps or participate in future activities, please contact montezuma@audubon.org or call 315-365-3588. Schools, community groups, local organizations and individuals are welcome. Like the Corps on Facebook or visit YouTube to learn more.
For more information on the Onondaga Lake cleanup, visit www.lakecleanup.com.
For more photographs of the Onondaga Lake Conservation Corps, click here.