Onondaga Lake Conservation Corps Members Plant Native Shrubs and Trees and Build Habitat Structures in Newly Created Wetland
Fifty-five volunteers gathered along Onondaga Lake's western shoreline last month to help build a new wetland. Volunteers planted shrubs and trees, built habitat structures, and participated in citizen science monitoring by tracking native birds. They are part of the Onondaga Lake Conservation Corps, an expanding organization of community volunteers who are contributing to restoration projects that are creating or improving wildlife habitat in the Onondaga Lake watershed.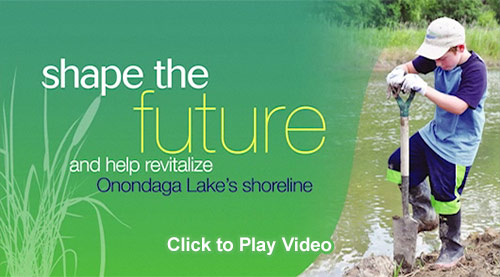 To learn more about the Onondaga Lake Conservation Corps or to participate in future activities, please contact montezuma@audubon.org or call 315-365-3588. For more information on the Onondaga Lake cleanup, please visit www.lakecleanup.com.
For more photographs of the Onondaga Lake Conservation Corps, click here.